Last updated on February 27th, 2020 at 04:16 pm
Phenylpiracetam is a nootropic drug of the racetam class family. It is used in Russian medicine for a myriad of illnesses.
Overview
Also Known As
Phenotropil, Carphedon, Fenotropil, fonturacetam
Type
Racetam
Stimulant
Main benefits

Decreases anxiety
Improves cognition in patients with brain dysfunction
Decreases depression
Reduces seizures
Reverses immune system impairments
Enhances memory and learning
Acts like a stimulant in animals

Synergistic with

Dopaminergics – Phenylpiracetam increases the number of dopamine receptors

Typical route
Orally
Typical dose
100 mg
Typically taken
Acutely – tolerance may arise with chronic use
Half-life
2.5 – 3 hours[28]
Mechanism of action
Increases dopamine receptor density
Increases BDNF
Where to Buy
Nootropics.com
Summary
Phenylpiracetam is used in Russian medicine for treating a wide range of diseases. It can reduce anxiety, depression, seizures, psychosis, prevent immune system impairments, improve memory and learning, and improve symptoms of brain dysfunction. The majority of studies focus on treating brain dysfunction symptoms. These include symptoms related to stroke and cardiovascular disease.
Its mechanism of action is not yet fully known. Safety wise, there have been no major side effects reported.
Benefits
Summary of benefits
Condition
Effect
Dosage
Subjects
Brain dysfunction
Improvement in symptoms
200 mg
99 Patients with encephalopathy
Stroke
Improvement in symptoms
100 - 400 mg

1170 ischemic stroke patients


200 ischemic stroke patients


Rats



Depression
Decrease in symptoms
N/A
Cardiovascular patients with depressive disorders
Epilepsy
Decrease in seizures
100 - 200 mg
Glaucoma
Improved field of vision
N/A
40 patients with primary open angle glaucoma
Hyperthyroidism
Improved mood and immune function
N/A
Animals
Immune system

Reversal of the effects of immunosuppressants



Improved immune response

N/A
Wistar rats
Memory and learning
Improved
N/A
Motion sickness
Decreased eye movements
N/A
Guinea Pigs
Psychosis
Antagonism of drug-induced symptoms
N/A
Animals
Stimulation
Increased activity
N/A
Stress
Decrease
N/A
Rats
Anxiety
A study involving 35 patients with cardiovascular diseases, phenotropil treatment for 12 weeks was well-tolerated but after 4-8 weeks its efficacy decreased.[1]
Wistar rats experiencing immune stress had a decrease in anxiety and fear response following treatment with phenotropil.[2] In animals models of psychosis, it exhibits anxiolytic (decrease in anxiety) effects.[3]
One study found a greater decrease of anxiety in male rats than in female rats.[4]
In inbred anxious mice, phenylpiracetam decreased anxiety and increased exploratory behavior.[5]
Brain dysfunction
Encephalopathy is an all-encompassing term that's used to describe brain dysfunction as a result of a variety of brain diseases. In 99 patients with encephalopathy, 200 mg of phenotropil per day given for one month had the following effects[6]:
Decreased movement disturbances
Decreased partial paralysis in the face and limbs
Improved motor coordination
Decreased anxiety and depression
Increased mobility and daily activity
Improved higher brain functions including memory, attention and counting
Asthenic Syndrome is a condition characterized by weakness, fatigue, and other symptoms. In a study involving 1170 patients with cerebral ischemia aged 45-65, 100 mg of phenotropil given for 3 months significantly decreased asthenic symptoms. An effect was seen within the first month which continued to increase during the 3 month study period. Younger patients had faster and more robust decreases.[7]
In 200 ischemic stroke patients, phenotropil given at 400 mg per day for a year significantly improved neurologic deficits and daily living activities.[8] In another study, 56 patients aged 56,8 ± 8,5 years with chronic brain ischemia received 100 mg twice a day. After 1 month, there was a marked decrease in vertigo and an improvement in cognitive functions.[9]
During cerebral ischemia, also known as a stroke, brain cells die which subsequently causes numerous cognitive deficits. Phenotropil is able to reduce some of these deficits on locomotion, memory, and was even able to restore cerebral blood flow in rats.[10]
There are a few studies demonstrating its nootropic effects in stroke victims. It appears to improve cognition and improve blood flow to the brain.
Depression
In 35 cardiovascular patients with depressive disorders, treatment with phenylpiracetam improved symptoms but its effect began to wane after 4-8 weeks.[11]
Mice given phenylpiracetam experienced an antidepressant effect when given either S-phenotropil or R-phenotropil. However, S-phenotropil was less potent and required a higher dose (100 mg/kg vs 50 mg/kg) to produce the same antidepressant effect.[12] Furthermore, the antidepressant effect is stronger in male rats than in female rats.[13]
Animals with drug-induced psychosis experienced an antidepressant effect following treatment with phenotropil.[3]
A small number of studies have found phenylpiracetam to have an antidepressant effect
Epilepsy
In 31 patients, a combination of 100 mg phenotropil taken daily for 2 months with anticonvulsant drugs resulted in a significant decrease in seizures.[14] Similarly, 90 patients were treated with either 100 or 200 mg of phenotropil in combination with antiepileptic drugs. This combination resulted in a reduction of seizures and improved cognitive function.[15]
Patients with partial epilepsy, also known as focal epilepsy, were given 100 mg once in the morning for 30 days. Of the 30 patients enrolled, 23 were in remission, 7 had no improvements, and 2 of the 7 actually had a worsening of symptoms.[16]
In rats, phenylpiracetam exhibits anticonvulsant properties.[17]
Phenylpiracetam appears to be a promising agent in the treatment of epilepsy.
Glaucoma
One russian study involved 40 patients aged 39 to 75 with primary open angle glaucoma. Phenotropil was used in combination with meldonium (improves blood flow) and betaxolol (lowers blood pressure). After 3 months, field of vision considerably improved in a number of patients.[18]
Hyperthyroidism
When animals with hyperthyroidism are given phenylpiracetam for 14 days, there is a decrease in the negative effects of hyperthyroidism; mood is improved as well as immune system function.[19]
Immune system
Wistar male rats had suppressed immune systems following cyclophosphamide administration, a drug used in the treatment of cancer and autoimmune diseases. Cytokines IL-1 (Interleukin 1), IL-4, and IL-6 were all suppressed, but phenylpiracetam largely restored their levels.[20]
Similarly, wistar rats with lipopolysaccharide-induced immune stress had an improvement in immune response following phenotropil treatment.[2]
Memory and learning
Mice given 1 mg/kg of R-phenotropil, but not S-phenotropil, had improved memory in the passive avoidance test.[12] In a similar study, mice were taught to avoid dark chambers after which they were electrically shocked. In the placebo group, 22 of the 24 mice entered the dark chambers indicating amnesia, or loss of memory. However, in the phenylpiracetam group only 4 out of 24 mice entered the dark chambers.[17] Moreover, it's able to prevent scopolamine-induced amnesia in rats.[21]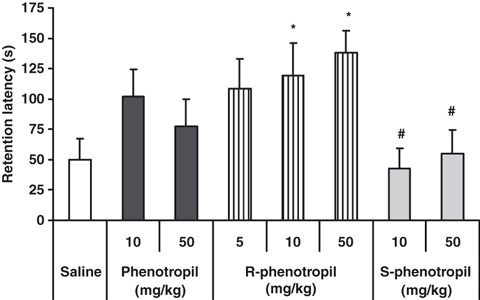 Another study involved 2 groups of inbred mice. The first group was more anxious and slower in exploring new environments than the other. When both groups were given phenotropil, only the first group had a decrease in anxiety and an improvement in exploratory behavior in the cross-maze test.[5]
A small dose (10 – 20 mg/kg) given to rats improves learning in an operant conditioning involving active avoidance of painful electrical stimulation. The rats learned to press the pedals faster and missed more electric shocks.[17]
Small animal studies have demonstrated a positive note on memory, but mainly in low-performing or stressed animals.
Motion sickness
In guinea pigs, it's able to decrease involuntary eye movements following a sudden cessation of rapid rotation, scientifically known as post-rotational nystagmus.[17]
Psychosis
In animal models of drug-induced psychosis, phenotropil was able to markedly reduce the positive and negative symptoms of psychosis. Positive being symptoms that clearly demonstrate abnormal thought, like delusions or hallucinations. While negative symptoms refers to a decrease or loss in normal function like a decrease in motivation. Furthermore, it was able to antagonize haloperidol-induced catalepsy.[3]
Stimulation
Diazepam, a benzodiazepine, is known reduce neurotransmitter levels. Phenylpiracetam is able to reverse this in rats.[17]
In wistar rats experiencing immune stress, phenotropil increases locomotion and exploratory behavior, two hallmarks of stimulants.[2][24] Similarly, animals with drug-induced psychosis had an increase in exploratory behavior and motor activity.[3]
Phenotropil was also found to increase locomotor activity in low-performing anxious mice.[5] Likewise, it increases locomotion in healthy mice.[12]
Phenylpiracetam is commonly used in Russia as a doping agent. It's said to enhance exercise performance by improving endurance and increasing cold resistance. Indeed, phenylpiracetam does in fact act as a stimulant in animals which could explain the benefits seen in athletes.
Stress
In a small study, rats were given phenotropil and exposed to an alternation of physical and mental stress for 20 days. Phenotropil eliminated neuroimmune impairments and decreased immobility time.[24]
Mechanism of action
Humans
No studies have been done in humans to assess its mechanism of action.
Animals and lab studies
| Element | Change | Mechanism | Effects | Subjects |
| --- | --- | --- | --- | --- |
| Acetylcholine | Unknown | Decreased nicotinic receptors | Unknown | Rats |
| BDNF | Increased levels | Unknown | Partial nootropic effects | Low-performing mice |
| Dopamine | Possible increase in activity | Increased D1, D2 and D3 densities | Unknown | Rats |
| Epilepsy | Selective reduction of the excitability of motor cortical neurons | Unknown | Decreased seizures | Rats |
| GABA | Possible increase in activity | Upregulation of GABAA allosteric sites | Unknown | Rats |
| Glutamate | Possible increase in activity | Increased NMDA receptor count | Unknown | Rats |
| Serotonin | No change | None | None | Rats |
Acetylcholine
Arecoline is a muscarinic acetylcholine partial agonist and is thought to also act on the nicotinic acetylcholine receptor. In a study involving animal models of psychosis, arecoline induced a hyperactivation of muscarinic acetylcholine receptors which resulted in tremors. Phenotropil significantly decreased the arecoline-induced tremors.[3]
In rats, phenotropil decreases the number of nicotinic acetylcholine receptors by 46%.[21]
BDNF
Phenotropil increases brain-derived neurotrophic factor in the hippocampus of low-performing mice, but not in high-performers.[25]
Dopamine
Phenotropil increased the density of D1, D2 and D3 receptors by 16%, 29%, and 62%, respectively in rats.[21] Moreover, it is able to decrease the positive psychotic symptoms induced by apomorphine, a dopamine D1 and D5 agonist, and a D2, D3, and D4 partial agonist.[3] Regardless of these findings, it does not bind to the D1, D2, and D3 receptors.[12] Its dopaminergic effects may involve an indirect mechanism.
Epilepsy
Phenylpiracetam's anticonvulsant effects may be explained by its ability to selectively reduce the excitability of motor cortical neurons, especially in the hippocampus.[17]
GABA
Phenotropil was found to increase the number of GABAA allosteric sites by 17% in rats. These are the sites that benzodiazepines act on.[21]
Glutamate
Both piracetam and phenylpiracetam fail to affect the binding of ligands on the glutamate receptors. In other words, they do not agonize nor antagonize these receptors.[26] Similarly, in mice phenylpiracetam failed to alter the number of glutamate receptors. However, piracetam was found to decrease the glutamate binding sites by 21%.[27]
On the other hand, a study done in rats found phenotropil to increase the number of NMDA receptors by 14%.[21]
Serotonin
In an animal model of psychosis, phenotropil was able to significantly decrease 5-HTP's hyperkinesis effects.[3] Morever, it does not bind to the 5-HT2 receptor in rats.[12][21]
Side effects
At high doses, phenylpiracetam can decrease neurotransmitter levels.[17]
Tolerance
In cardiovascular patients being treated for mental disorders, phenotropil was compared to hopantenic acid (pantogam active), a CNS depressant drug used in Russia. Both drugs were effective and well-tolerated, but while pantogam active's effect gradually increased over the course of 4-8 weeks, phenotropil's effect decreased, particularly its anxiolytic effect.[1]
Synergies
Because it increases the density of dopamine receptors, it should theoretically synergize well with dopaminergic substances.
Safety
Phenylpiracetam can interact with the drug cyclophosphamide and reverse its immunosuppressant properties.[20] Therefore, patients taking immunosuppressant drugs should not take phenylpiracetam.
No major side effects were reported in any of the studies done in humans nor animals.
References
Let us know if you liked the post. That's the only way we can improve.