Last updated on March 3rd, 2020 at 04:24 pm
Modafinil is a wakefulness-promoting nootropic that is widely regarded as the best alternative to adderall. Modafinil provides nearly all the benefits of adderall, albeit to a weaker degree, but without the side effects like anxiety, tunnel vision and tachycardia.
Overview
Also Known As
Provigil, Alertec, Modavigil, Modiodal, Modalert
Type
Pharmaceutical
Stimulant
Main benefits

Increased wakefulness
Increased motivation
Improved mood
Increased task enjoyment
Improved focus
Enhanced working memory
Decreased fatigue
Prevents detriments to cognition during sleep-deprivation
Prevents rebound sleep following sleep-deprivation

Synergistic with

Selegiline (after chronic use)
Caffeine
Antidepressants, particularly SSRIs

Typical route
Oral
Typical dose
200 mg
Typically taken
Acutely
Half-life
12-15 hours[94][97]
Mechanism of action
Primary: Dopaminergic
Secondary: Affects noradrenaline, serotonin, glutamate, GABA, histamine, and orexin
Summary
Modafinil is unique in that it induces wakefulness without causing stimulation. This is in contrast to classic stimulants like caffeine, adderall, and ritalin, which provide wakefulness as a result of stimulation. Its use has become more and more prevalent because of its relatively benign profile. It provides many benefits with little to no side effects. Modafinil is used to enhance cognition, improve ADHD, improve cognition during sleep-deprivation, augment antidepressants, and as a mood enhancer.
Its main mechanism of action is unknown but it is known to act as a potent, but weak dopamine reuptake inhibitor. It's also an alpha-1 adrenoceptor agonist.
Benefits of modafinil
Summary of benefits
Condition
Effect
Dosage
Subjects
Cognition
Enhanced: working memory, recognition memory, sustained attention, and other cognitive functions
100 - 200 mg

Healthy adults
Adults with ADHD


Low IQ Adults
Sleep-deprived healthy adults

ADHD
Strong decrease in symptoms; equivalent to that of dextroamphetamine
100 - 425 mg

Adults
Adolescents
Children

Depression

Decrease in symptoms and increase in antidepressant-response speed with SSRIs
Decreases depression as monotherapy

100 - 400 mg

Adults with major depression
Adults with bipolar depression
Adults with seasonal-affective disorder

Fatigue
Strong decrease
100 - 300 mg

Sleep-deprived adults
Depressed individuals

Motivation
Increased task enjoyment
200 mg
Healthy adults
Rats
Mood
Improvement
400 mg
Depressed adults
Prolactin
Decrease
200 mg
Healthy males
Cortisol
No change
300 mg twice daily
Healthy males
Growth hormone
No change
300 mg twice daily
Healthy males
Melatonin
No change
300 mg twice daily
Healthy males
Cognition
In three studies, researchers found that non-sleep deprived healthy subjects given modafinil had enhanced task enjoyment and performance on several cognitive tests of planning and working memory, but had no improvements in paired associates learning.[1][8][46] Another study employing 33 subjects found those given 200 mg learned a new language faster than those given placebo.[2] Though, this study found no improvement in working memory. In 12 healthy males, at 300 mg, it was found to decrease the number of errors in the One-Touch Stockings of Cambridge test, which measures executive function, spatial planning, and working memory.[44]
Several studies have shown that modafinil does not improve cognition in healthy adults.[3][4][5] However, some studies do show some enhancements in verbal recall, short-term visual recognition memory and improvement in a simple colour naming of dots. Two of these studies suggest that modafinil's cognitive benefits may be limited to those with a low IQ or low-performing individuals.[4][46] This is backed by another study which showed it enhanced cognition in those suffering from ADHD with "improvements on tests of short-term memory span, visual memory, spatial planning, and stop-signal motor inhibition" and sustained attention span, but not in healthy individuals.[6]
In contrast, another study found improvements in focus and accuracy in healthy adults, but only in demanding tasks.[7] Modafinil appears to be a viable alternative to adderall, ritalin, and other medications for ADHD. It improves attention span, decreases errors in demanding tasks, and even reduces impulsiveness.[8][49]
Modafinil was able to increase cognitive performance in working memory and learning in 11 healthy non-sleep deprived adults and its effects were comparable to that of dextroamphetamine.[63]
In summary, modafinil's effects on cognition are not very reliable. There appears to be an apparent benefit to those suffering from ADHD, low IQ,or other cognitive deficits. However, in regards to healthy adults, the results are mixed with some studies showing enhanced cognition and others showing little to no change.
Attention deficit hyperactivity disorder (ADHD)
Aside from improving general cognitive processes in those with ADHD, modafinil was found to successfully treat ADHD itself. In a study with otherwise healthy adults, approximately 207 mg +/- 85 was found to be comparable to approximately 22 mg +/- 9 of dextroamphetamine in treating ADHD.[64]
In children and adolescents, several studies have shown modafinil to be effective in treating ADHD. It had minimal side-effects and was well-tolerated in two different 9-week double-blind studies.[65][66] Both studies found it to significantly improve ADHD symptoms, both at school and at home. Likewise, a different study found a significant reduction in ADHD Symptoms at school following 6 weeks of treatment.[67] One more study also found a significant reduction in ADHD symptoms at school and home, but abrupt discontinuation following 2 weeks of treatment did not cause a rebound in ADHD symptoms nor cause withdrawal symptoms.[68]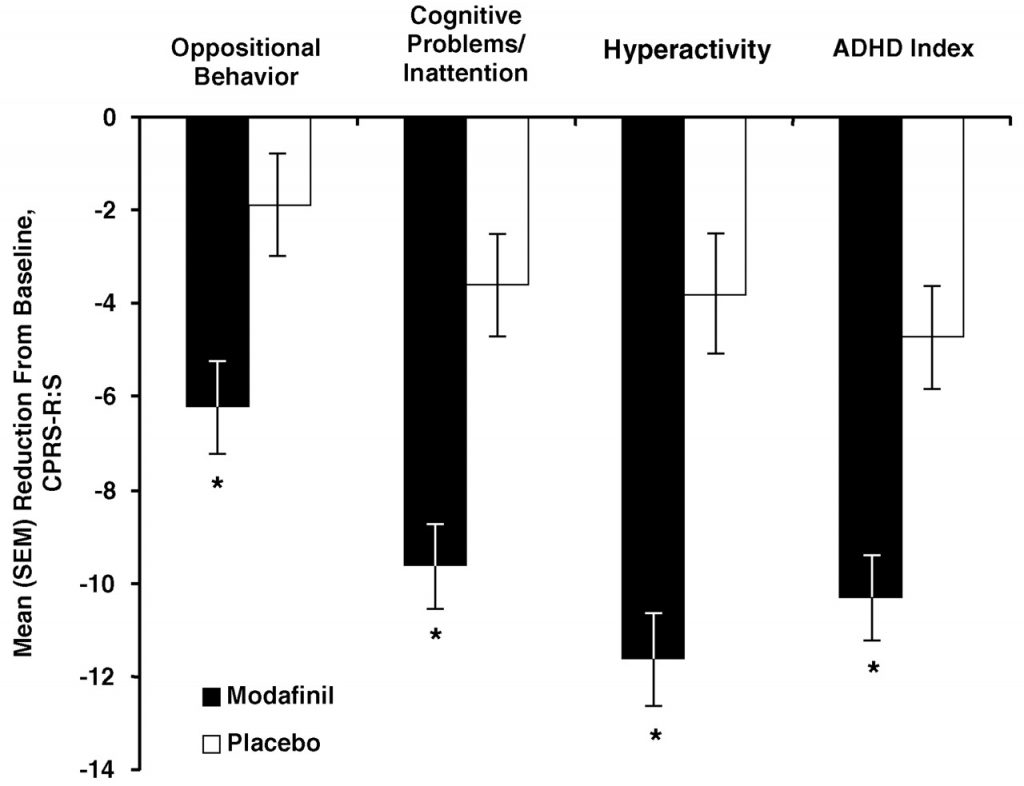 Another study using children and adolescents found a once-daily dose of 300 mg to be more effective than a split-dose. Those taking divided-doses had inconsistent improvements in ADHD symptoms whereas those taking once-daily had significant and consistent improvements.[69]
Modafinil is a viable treatment for ADHD in adults, adolescents and children. It significantly improves symptoms of ADHD and is generally well-tolerated. A once-daily dose is more effective than split-doses.
Sleep deprivation
Sleep deprivation is well-known to impair performance and cause several cognitive deficits.[9][10][11][12] Modafinil is one of many substances that can reduce the negative effects of sleep deprivation on cognition, the others being caffeine and stimulants such as adderall. One study found that modafinil given to healthy adults restored objective performance and alertness during sleep deprivation with few side effects.[13] However, another study found that while it maintained performance and alertness during sleep deprivation, its effects were no more stronger than that of caffeine.[14]
One study employing 6 young males (20 – 24 years old) found a dose-dependent benefit on cognitive performance during 64 hours of sleep deprivation with 300 mg total being the most effective.[16] However, it was dosed 3 times a day at 8-hour intervals as opposed to taking it at once in the morning. This is rather unusual and it's not clear why the study employed such a dosing regimen given modafinil's 12-15 hour half-life. Nonetheless, at 300 mg total (100 mg every 8 hours), it was found to maintain cognitive performance at or near baseline value. At 150 mg (50 mg every 8 hours), it only provided some maintenance on performance and at 50 mg (16.7 mg every 8 hours) the effect was no more different than that of placebo.
Comparing amphetamine to modafinil, at least one study found both 20 mg of d-amphetamine and 300 mg of modafinil to improve mood, fatigue, sleepiness, and cognitive performance following 64 hours of sleep-deprivation with no differences between the two.[18] However, subjects taking modafinil experienced fewer side-effects than those taking d-amphetamine. Body temperatures in both groups were increased or maintained compared to the placebo group.
In short, modafinil appears to reliably reduce the detrimental effects of sleep deprivation on cognition with little to no side-effects. Furthermore, it is able to reduce the need for longer sleep following sleep deprivation.[17] This makes modafinil a great alternative to caffeine and amphetamines for counteracting the effects of sleep-deprivation. However, it is unable to prevent detriments in cognitive function following long periods of sleep deprivation.[49] As such, it is imperative that one get adequate sleep when possible.
Motivation
Healthy adults given 200 mg experienced an increase in task enjoyment.[1] In rats, it was found to increase motivation by increasing dopaminergic activity.[19] Indeed, the same effect is seen in humans where it increases dopamine in the nucleus accumbens.[20][62] This part of the brain plays a significant role in motivation, pleasure, and reward. This reinforces the idea that modafinil can improve motivation in humans. Further studies are needed to verify this finding.
Mood
Healthy adults given 400 mg of modafinil experienced an increase in general mood and a significant increase in positive thinking and emotions.[21]
Depression and fatigue
In patients with depression, it was found to improve mood, reduce fatigue, and relieve excessive sleepiness.[22] It appears to augment SSRI-treatment therapy and increases the chances of achieving remission. Several studies have shown significant improvements in fatigue and sleepiness when SSRI-treatment is augmented with modafinil.[23][24][25][26][27][28][29][30][52] In these studies it was well-tolerated and had minimal side-effects. One study even showed an increase in response-speed on top of an enhancement of the antidepressant effects.[24]
Most of these studies used 100 to 200 mg of modafinil taken once a day. Another study found modafinil to augment not only SSRIs, but also venlafaxine (Effexor), mirtazapine (Remeron), and tricyclic antidepressants. [70] Doses ranged from 100 to 400 mg daily. Treatment lead to a remission rate of 43%.
Other studies in bipolar-depression patients also show significant improvements in depressive symptoms with no increased risk of mania.[30][31]
At least one study has found modafinil by itself to be effective for atypical depression. Doses ranged from 100 mg to 400 mg, depending on the patient's tolerability.[34]
It also appears to be effective for Seasonal Affective Disorder according to one study that used 100 mg or 200 mg taken twice daily.[51]
There are 3 case reports of modafinil safely augmenting MAOI antidepressants with no signs of tolerance.[100] One case report involves a 58 year old man who lacked energy, was anhedonic, hypersomnic, had slowed thoughts and negative thoughts. Many antidepressants were tried, but to no avail. Finally, he achieved partial remission with the initiation of transdermal selegiline and was moved up to a maximum of 24 mg. Despite selegiline being a selective MAO-B inhibitor, at high doses it significantly inhibits MAO-A in addition to MAO-B. Tianeptine was used in combination with selegiline but lacked efficacy and was discontinued, though it did not have any adverse effects. However, with the addition of 200 mg of modafinil the patient achieved complete remission and remained in remission for over 24 months after his last follow up.
Another case report involves a 55 year old man who also tried many antidepressants before being placed on transdermal selegiline at 12 mg daily. This improved his energy, but did not help his concentration problems nor his problem of becoming easily fatigued. He achieved complete remission with the addition of 400 mg of modafinil and did not have any significant side effects. Furthermore, he discontinued selegiline after 6 months, but remained in remission for over 24 months after his follow up.
The last case report involves a 60 year old woman who has a long history of depression. She was taking 120 mg of tranylcypromine, 37.5 mg tianeptine, and an atypical antipsychotic. Most of her symptoms were controlled, but she lacked energy. The addition of 400 mg of modafinil reduced her fatigue and had no significant side effects. She remained in partial remission 2 years after starting this regimen.
There is strong evidence to support the use of modafinil as an augmentation strategy in the treatment of depression, especially with SSRIs. It also appears to be effective and safe in bipolar-depression and does not increase the risk of developing mania
Hormones
Healthy males in two separate studies given either 200 mg of modafinil or 400 mg experienced a decrease in prolactin levels.[47][50] With regards to plasma cortisol, growth hormone, and melatonin, 300 mg of modafinil administered twice in a 36 hour sleep-deprivation session failed to alter plasma hormone levels. In non-sleep deprived healthy males at 400 mg, it does not affect plasma hormone levels of growth hormone and thyroid-stimulating hormone (TSH).[50]
Stimulation
A double-blind study using 300 mg of caffeine, 15 mg of dextroamphetamine, and 300 mg of modafinil in 16 healthy subjects found modafinil to subjectively feel similar to caffeine. As in, it was free from side-effects associated with traditional stimulants.[53][54][101]
Two studies employing 100 mg to 200 mg of modafinil found a significant decrease in cancer-related fatigue.[55][56] In contrast, a larger double-blind study consisting of 208 cancer patients found no significant decrease in cancer-related fatigue.[57]
HIV
Two small studies have shown modafinil to decrease HIV-related fatigue and improve cognitive functions, including verbal memory and executive function.[58][59] A larger double-blind study employing 115 HIV-positive patients found a significant decrease in fatigue and depressive symptoms with no signs of tolerance after 6 months of treatment.[60]
Mechanism of action
Humans
Neurotransmitter
Change
Mechanism
Effect
Dosage
Dopamine
Increase in dopamine levels
Inhibition of dopamine reuptake
Increased wakefulness
200 mg - 400 mg
Noradrenaline
Increased activity
Agonism of Alpha-1 adrenergic receptor



Increased wakefulness



Improved working memory

200 mg
Histamine
Increased metabolite levels
Unknown
Increased wakefulness
N/A
Dopamine
How modafinil works is largely a mystery. Though, it is known to increase dopamine in the nucleus accumbens and inhibit the dopamine transporter (DAT), but it does so without being addictive.[36][45] In contrast, classic DAT inhibitors like cocaine are well-known for producing euphoria and causing addiction. What's more is when cocaine and modafinil are administered together, cocaine's positive effects are significantly blunted.[37][38] Interestingly, two studies have found modafinil to treat cocaine dependence. It reduced cravings and increased the likelihood of cocaine abstinence. One study employed 300 mg daily and the other 400 mg.[39][40] This reinforces the idea that modafinil increases dopamine in the brain by a mechanism similar to that of cocaine.
In healthy volunteers, modafinil was able to inhibit 51.4% of dopamine transporters (DAT) in the striatum at 200 mg and 56.9% at 300 mg. It also increased dopamine in the nucleus accumbens with 200 mg occupying 51.5% of DAT and 300 mg occupying 57.7%. The same study suggested that modafinil is almost as potent as methylphenidate (ritalin) in occupying DAT.[62]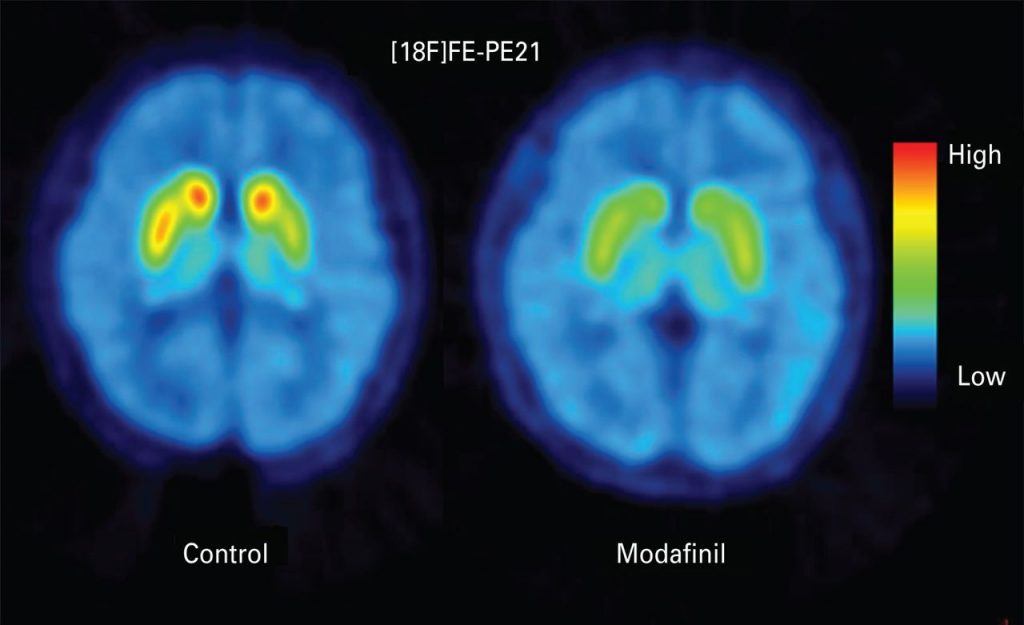 Modafinil also reduces prolactin in healthy humans via a dopaminergic mechanism.[47]
There is research to suggest those with different types of COMT genes respond differently to modafinil.[61] Those with the Val/Val genotype supposedly have lower dopamine levels than those with the Met/Met genotype. In a study using sleep-deprived healthy volunteers, Val/Val individuals responded very well to 100 mg taken twice while those with Met/Met hardly had any effect. Nonetheless, this study should be taken with a grain of salt as modafinil's mechanisms are quite complex. Furthermore, there are several anecdotes in which users without the Val/Val genotype responded positively to modafinil. And there are even some users with the Val/Val genotype who did not respond at all. Further studies are needed to confirm these findings.
There is strong evidence modafinil inhibits the reuptake of dopamine via the dopamine transporter. It increases dopamine in the striatum, nucleus accumbens, and other parts of the brain. However, it is unclear if this increase is solely responsible for its wakefulness-properties.
Noradrenaline
At least 4 studies have shown modafinil to increase noradrenergic activity, with two suggesting it acts as a central alpha-1 adrenoceptor agonist and the others suggesting it increases noradrenergic activity in the Locus Coeruleus (LC).[41][42][43][44] The LC is a part of the brainstem that produces most of the brain's noradrenaline. It is involved in wakefulness, memory and attention, executive functions, emotions, and neuroplasticity.
The alpha-1 adrenoceptors may be partially responsible for modafinil's nootropic effect. Antagonism of this receptor blocks modafinil's ability to reduce errors on the One-Touch Stockings of Cambridge test.[44] This test measures executive function, spatial planning, and working memory. It is not clear which of these cognitive functions is diminished by antagonism of the alpha-1 adrenoceptor as they are all important for the test. However, one study found modafinil to subtly enhance working memory via a noradrenergic mechanism in the prefrontal cortex.[46] This suggests that the beneficial effects of modafinil on working memory involves a noradrenergic mechanism.
No study has shown modafinil to activate the alpha-1 adrenoceptors outside the central nervous system (CNS). This could, in part, explain the relative lack of stimulant-like side effects.
Modafinil is confirmed to agonize the central alpha-1 adrenoceptors in humans. At least some of its nootropic effects are mediated by a noradrenergic mechanism.
Histamine
One study employing the use of tiprolisant, an H3 inverse-agonist, found modafinil to augment its effects. Moreover, in mice it was shown to increase tele-methylhistamine, a histamine metabolite, suggesting it increased histamine release. The researchers did not conclude whether modafinil also increased histamine in humans but did suggest it may act on the histaminergic system.
Animals and lab studies
In rats and mice, modafinil's mechanism of action appears to be quite complex. It has varying effects on dopamine, glutamate, serotonin, GABA, histamine, acetylcholine, and orexin.
Neurotransmitter
Change
Mechanism
Effects
Subjects
Dopamine
Increased levels



Inhibition of dopamine reuptake



Increased release



Increased release via a GABAergic mechanism

Increased wakefulness
Norepinephrine
Increased levels



Increased release in the hypothalamus



Inhibition of norepinephrine transporter



Increased wakefulness
GABA



Decreased activity



Reduced GABAA receptor activity



Increased 5-HT2 and 5-HT3 activation



Involvement of dopamine and noradrenaline

May be involved in wakefulness
Glutamate
Increased levels
GABAergic mechanism
Unknown
Rats
Histamine
Increased activity



Increased orexinergic activity



Decreased GABA activity

Increased wakefulness
Mice
Orexin
Increased activity
Increased histamine release



Increased wakefulness



Increased synaptic plasticity

Mice
Serotonin (5-HT)



Increased activity


Increased levels

Increased release in the prefrontal cortex
Unknown
Dopamine
Many studies have shown dopamine plays a pivotal role in modafinil's' mechanism of action. One such study found it to be ineffective in mice lacking the dopamine transporter.[71] Another study found the dopaminergic D1 and D2 receptors to be critical for the wakefulness properties of modafinil.[72] Furthermore, quinpirole, a dopamine autoreceptor agonist, was found to blunt modafinil's wakefulness-promoting efficacy in mice.[73]
Similarly to amphetamine, dopamine release is increased in the striatum of rats following a single dose.[74] However, modafinil was much less potent at releasing dopamine than amphetamine. Another study, also using rats, found that an increase in dopamine and serotonin release is responsible for the initial waking effect while increased noradrenaline release maintains it.[75]
At least some of the increase in dopamine release is mediated by altered GABA activity. Baclofen, a GABAB receptor agonist, augments modafinil's action on dopamine release.[84]
In rhesus monkeys, it was found to bind to the dopamine transporter. Moreover, it was also found to bind to the human dopamine transporter (DAT) with strong affinity in-vitro.[76]
In contrast to these findings, one study on rats found modafinil to have no effect on the firing rate of dopaminergic neurons and concluded that its wakefulness-properties are not mediated by a catecholaminergic mechanism.[77]
Noradrenaline
Cats given modafinil experienced a dose-dependent increase in wakefulness. When combined with adrenergic antagonists, modafinil's arousal effect was significantly decreased. But, when combined with a catecholamine synthesis inhibitor, its effects were slightly reduced in duration. The study suggested its mechanism of action was due to an enhancement of alpha-1 and beta-receptor activity.[78] Indeed, in mice and monkeys, its effects have been linked to stimulation of central alpha-1 receptors.[79] Interestingly, modafinil appears to selectively agonize the alpha-1 adrenoceptors in the CNS leaving the peripheral receptors untouched. The implications of which are not fully known, but can explain the relative lack of stimulant-like side-effects seen in humans.
Noradrenaline levels in the hypothalamus are significantly increased in rats following a single dose.[75]
In an in-vitro study, it was found to bind to the human norepinephrine transporter (NET) with moderate affinity.[76]
GABA
Modafinil appears to reliably reduce GABA levels in rats, mice and guinea pigs. Moreover, its decreases GABA release via an indirect mechanism involving serotonin, dopamine and noradrenaline. Antagonism of the serotonin type 2 (5-HT2) prevents modafinil's ability to reduce GABA release.[80] And antagonism of the 5-HT3 receptor blunts the reduction of GABA.[81][86] Guinea pigs given 6-hydroxydopamine, a neurotoxin that kills dopaminergic and noradrenergic neurons, did not experience a decrease in GABA levels following modafinil administration.[82] Serotonin-depleted guinea pigs and rats not only experienced no reduction in GABA, but had an increase in GABA and noradrenaline.[83]
A GABAergic mechanism is at least partially responsible for the increase in dopamine release as guinea pigs given a GABAB receptor antagonist, a GABAA receptor agonist, or a GABA reuptake inhibitor did not experience an increase in dopamine release.[84]
No effect was seen on GABA synthesis in an ex-vivo and in-vitro study using the rat hypothalamus.[85]
Glutamate
In rats, modafinil is able to increase glutamate levels in the rat brain via a GABAergic mechanism. Agonism of the GABAA receptor blunts the increase in glutamate levels whereas antagonism enhances it.[86]
No effect was seen on glutamate synthesis in an ex-vivo and in-vitro study using the rat hypothalamus.[85]
Histamine
Two different studies have shown modafinil to increase histamine release, but not directly. When it was injected directly into an area of the brain with histaminergic neurons, it failed to alter histamine release.[87] Rather, it appears modafinil is able to increase histamine release via an interaction with orexinergic neurons.[88] One of the studies found it to increase histamine release to 150% of baseline, though the dose was rather large at 150 mg/kg for which the human equivalent dose (HED) is about 24 mg/kg.[87]
A study using modafinil and tiprolisant, an inverse H3 agonist, found modafinil to modestly increase tele-methylhistamine levels, a metabolite of histamine.[89]
Orexin
Aside from increasing histamine release, orexin neurons are not needed for the wakefulness properties of modafinil. In fact, orexin-null mice had significantly longer wakefulness times than did their wild-type counterparts.[90]
Serotonin
An in-vitro study found modafinil to weakly bind to the human serotonin transporter (SERT).[76]
Acetylcholine
No effect was seen on acetylcholine levels in rats.
Side effects
Much like caffeine, modafinil has a very benign side-effect profile. It does not seem to cause a drugged-up feeling like the classic stimulants adderall and ritalin. It also does not seem to have any prominent side-effects, unlike stimulants which are almost always associated with decreased appetite, racing heart, and increased anxiety. The most common side-effect is that it lasts too long. While some may argue this is not a side-effect, by definition a side-effect is an unintended effect of a drug. In modafinil's case, because it lasts 12-15 hours it can affect some people's sleep. Some may have trouble sleeping while taking modafinil, even if they take it in the morning.
One study found this to be true with modafinil impairing post-recovery sleep following sleep-deprivation.[13] However, several other studies have found no such detriment to recovery sleep.[15][92][93] On the contrary, one study found it to decrease the need for a longer sleep following sleep deprivation and another found it to increase subjective sleep quality.[17][92]
Regardless, there are many ways to counteract this side effect. The simplest way is to reduce the dosage. Cutting the tablet in half can help to mitigate this side effect, but may decrease the benefits as well. Another way is to take supplements and nootropics for sleep. Melatonin, phenibut, and L-Theanine are all excellent choices for inducing relaxation and sleep. However, phenibut should only be used acutely. Chronic use is not recommended as it can be addictive.
Another common side effect of modafinil is increased itchiness. Because it increases histamine, it can worsen allergies and induce itchiness. It can also cause a very rare condition called Stevens–Johnson syndrome. However, the odds of this happening are quite slim.
Some studies on humans have found modafinil to increase anxiety and aggressive mood factors.[21][35]
A systematic review found modafinil to impair creativity.[91]
Tolerance
Modafinil at 400 mg daily was found to be effective at treating excessive daytime sleepiness for up to 40 weeks.[95] No tolerance was observed. However, while most studies don't show any signs of tolerance, there are many anecdotes that modafinil's effects weaken or even disappear over time. Many users notice a particular smell in their urine a number of hours after taking it. And when these users take modafinil over several days or weeks, they notice their urine starts to smell much earlier than usual. This suggests that modafinil is being metabolized at a faster rate.
Indeed, there is some evidence to support this notion. Modafinil is an inducer of the CYP3A4 enzyme or in other words, it increases the activity of the CYP3A4 enzyme. This enzyme is one of many that metabolizes modafinil. However, it seems modafinil is mainly metabolized by amide hydrolysis.[94] It's unlikely that induction of the CYP3A4 enzyme is solely responsible for this effect.
HIV-positive patients taking up to 200 mg of modafinil a day for 6 months did not experience a reduction in the fatigue-reducing and antidepressant-like benefits.[60]
In terms of its antidepressant-like effects, no tolerance was seen in 3 case reports following 24 months after initiation of modafinil.[100]
Regardless of these findings, cycling is recommended to maintain its full effects in healthy users.
Synergies
Caffeine
Dopamine seems to be fundamental to modafinil's mechanism of action. Mice lacking the dopamine transporter do not experience increased wakefulness upon administration of modafinil. In humans, modafinil increases dopamine in the nucleus accumbens and the striatum and caffeine increases the density of the striatal dopamine D2 and D3 receptors. The nucleus accumbens and the striatum are involved in motivation, pleasure, reward, and reward perception. Based on this, caffeine should synergize perfectly with modafinil to increase motivation and other beneficial effects. However, it can also decrease motivation and focus through overstimulation. Because of this, it is important to keep the caffeine dose low and to take L-Theanine in addition to caffeine and modafinil.
Example of a stack:
200 mg Modafinil
100 mg – 200 mg Caffeine
100 mg – 200 mg L-Theanine
Selegiline
Selegiline is an irreversible MAO-B inhibitor used to treat Parkinson's disease. Monoamine oxidase type B (MAO-B) is an enzyme found in the brain and the body that metabolizes dopamine and phenethylamine (PEA). PEA is an endogenous amphetamine-like compound that releases dopamine and norepinephrine. Selegiline is well-known to increase striatal dopamine levels which as a result can enhance modafinil's ability to increase motivation. However, selegiline is not recommended for new nootropic users because of its complexity. For one, selegiline needs at least 2 weeks before dopamine levels are increased to a significant degree. It also lasts quite a long time with some MAO-B enzymes remaining inhibited after a month of not taking selegiline.
It can also result in overstimulation in vulnerable individuals. If you already respond to modafinil then there is no need to take selegiline. If you don't respond to it, or you only partially respond then you can consider adding in selegiline. But, a single dose won't have any effect on modafinil. It needs to be taken chronically to achieve a significant effect.
Safety
Up to 600 mg, modafinil appears to be safe and beneficial without any major side effects. However, at 800 mg it significantly increases blood pressure and heart rate.[96]
A combination of 200 mg of modafinil and 10 mg of dextroamphetamine administered to healthy volunteers was well tolerated with no major side effects.[97]
No changes were seen in liver values when modafinil or armodafinil was administered to HIV-positive patients with hepatitis C.[58]
Modafinil and warfarin should not be taken together as modafinil inhibits CYP2C9, an enzyme that metabolizes warfarin. However, this was not the case in one study where 5 mg of warfarin was used with 400 mg of modafinil.[102] No changes in blood levels of warfarin were detected. Regardless, this is only one study and as such modafinil and warfarin should only be used with extreme caution.
Hypertension is rarely seen, but there is a case report of a 63 year old woman who developed high blood pressure after she started 300 mg of modafinil. The dosage was lowered to 100 mg daily, but to no avail. It was discontinued and replaced with 900 mg of adrafinil which also caused a significant rise in blood pressure. After discontinuing both, her blood pressure values normalized.[99]
A case report found the combined use of tranylcypromine (Parnate) parnate and modafinil in a narcoleptic patient was well-tolerated and effective in treating the patient's narcoleptic symptoms.[98] Parnate is an old-generation classic MAOI. It is usually contradicted with many drugs for fear of serious cardiovascular complications. However, given modafinil's lack of effects on the sympathetic nervous system, it should not increase the risk of hypertension. In addition, 2 case reports found a combination of high-dose transdermal selegiline and 200 mg and 400 mg of modafinil to be safe and well-tolerated.[100]
References
Let us know if you liked the post. That's the only way we can improve.