Last updated on September 1st, 2018 at 09:20 pm
Nootropics Depot is an online nootropic store that is without doubt the best place to buy nootropics from. They offer a huge variety of different nootropics ranging from natural to synthetic. Every product they list has been thoroughly tested to ensure its potency and purity.
Pros
Cons
Worldwide shipping – Nootropics Depot ships to every country in the world. No where on their site do they list exceptions. Of course, some countries, like North Korea for example, can't be shipped to as they don't have the means of delivering mail.
No scoops with bulk powders – Most nootropic vendors will include a plastic scoop with their products. The scoops offer a convenient way to dose a nootropic without using a scale. I've spoken to the owner of Nootropics Depot and he informed me that scoops are unreliable as powders can vary in densities. While this is true for powders that require small doses, it should not be the case for powders that require large doses.
Very low prices – When it comes to value, Nootropics Depot is second to none. In the past, Powder City was the only real competition to their low prices, but they have since shut down. Now, there is no store that can compete with Nootropics Depot's prices.
Limited payment methods – Nootropics Depot only accepts 2 payment methods, Bitcoin and E-Check. However, E-Check is available to just US customers so that leaves its other customers with only Bitcoin as a payment option.
Free shipping on some orders – If you're in the US and you buy $50 worth of products or more then you can get free shipping. If you're outside the US, then orders above $200 will get free shipping.
Unclear return policy – On their website they simply state that it will be at their discretion if they accept returns or not. It is probably safe to say that used products cannot be returned unless their is an issue with it.
Multiple purity tests – Buying powders can be a bit daunting given how its difficult to know if the product is safe or not. But, Nootropics Depot relieves this stress by not only performing in-house testing, but also third-party testing. Multiple Certificates of Analysis can be found on a lot of their products. In every case, their product meets or exceeds the criteria. In other words, all their products are safe and potent.
Huge range of capsuled nootropics – While powders are cheaper than their capsuled counterparts, they're also inconvenient for a lot of people. Many nootropic vendors only offer a small range of capsuled nootropics, but not Nootropics Depot. Almost all of the powdered nootropics they offer come in capsules. And the price difference between the two is almost negligible.
High quality containers – Nootropics Depot's powders come in plastic tubs that look and feel luxurious. In contrast, other nootropic stores sell their powders in aluminum pouches which offer little protection, are sometimes hard to open or close, and make it difficult to get all the powder out when it's running low. Moreover, their capsules also come in high quality plastic bottles that includes child-proof lids.
10% discount for new customers – Just sign up to their newsletter and you'll get a 10% discount off the bat.
Brand name extracts – Some of their nootropic herbs come with proprietary extracts that are proven to yield a more potent product. Some of these names include BaCognize, Chocamine, GS15-4, KSM-66, and many more.
Sample packs – In case you're new to nootropics and don't know how each one affects you, you can buy sample packs to test them out. Sample packs are available for both natural and synthetic nootropics.
My order
I placed an order for the following items:
Oxiracetam Powder 30 Grams
Pramiracetam Powder 5 Grams
Rhodiola Rosea 3% Salidroside Powder 125 Grams
Coluracetam Powder 1 Gram
Phenylpiracetam Powder 5 Grams
Phenibut HCL Powder 25 Grams
PRL-8-53 Powder 0.5 Gram
Rhodiola Rosea 3% Rosavins Powder 250 Grams
Agmatine Sulfate Powder 250 Grams
Acetyl L-Carnitine HCL 500mg Capsules (ALCAR) 180ct
Polygala tenuifolia 20:1 Extract Powder (Yuan Zhi)
Within a week of placing my order it was delivered to my home and I live in Canada, not the USA. So the shipping was decently fast.
The box it came in was quite sturdy and seemed capable of withstanding a lot of force so it was definitely protective of the contents inside. Regardless, Nootropics Depot took further steps to ensure any possible damage that can happent to the jars is minimized or even eliminated altogether. The small jars are completely encapsulated in bubble wrap while the large 250 gram jar of Rhodiola Rosea has been wrapped in some type of thick, brown paper. It seems it's the same paper that's been filled inside the box itself.
The brown paper is there to act as a shock absorber and it has done its job beautifully. I couldn't detect any damage on my nootropics.
Packaging
Aside from the box it was shipped in, the jars the nootropics are stored in are undoubtedly of very high quality. They almost feel luxurious to not only handle but to also open. The lid seals and opens almost frictionlessly. While most people don't really see a point in the quality of the packaging it's important to remember that presentation affects your response. This is why brand name products like expensive watches are packaged in high quality, luxurious, and aesthetic containers. It's also why generic foods like generic mayo are packaged in low quality and dull containers.
But, a lot of times the generic foods can be comparable in quality to the brand name. Sometimes it's the opposite and the generic is of better quality than the brand name. Creating a pleasant package is actually one of the fundamental principles of marketing. Even trivial things such as color can change our responses.
For this reason, packaging can have a effect on your response to nootropics. And Nootropics Depot has done a wonderful job at making sure its packaging is optimal.
Sadly, one thing that I don't like about the packaging is the lack of a scoop or measuring device. I've spoken to the owner of Nootropics Depot, Paul or MisterYouAreSoDumb as he goes by on Reddit, and he assured me the reason scoops are not included is because of safety and a concern that scoops may not be accurate at measuring doses.
I agree with him, but this is only true for small, potent powders. Take noopept, for example, where you need to measure the dose in single-digit milligrams. A typical noopept dose is 10 mg so pinpoint dosing here is of great importance. But, this is not true for powders that require a reasonable dose. Agmatine is one such powder that does not require pinpoint dosing. A typical agmatine dose is around 500 mg which gives you a lot of leeway when dosing it. There's no particular danger or a huge shift in your response if you're off by a few milligrams. Heck, even a margin of hundred milligrams can have no noticeable effect.
So in the case of agmatine it doesn't really make sense to not include a scoop. It's only when dealing with low dose nootropics that the validity of scoops becomes an issue. But even then, a scoop with a digital scale can mitigate any errors in dosing.
Safety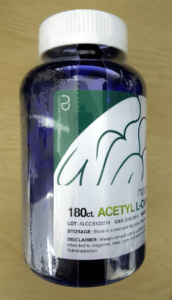 All the jars and bottles that came with my order were wrapped in plastic from top to bottom. The plastic makes it impossible to open them so it ensures that no tampering can occur. Still, a lot of supplement companies double-seal their products. That is a plastic wrapper on the outside and a removable seal in the lid opening. Nootropics Depot did not double-seal their products.
It's not really a huge safety concern but it would be very reassuring if they were double-sealed. This is the industry standard from what I can tell. However, it's usually done by large supplement companies and Nootropics Depot is comparatively small. It could very well be that double-sealing is cost prohibitive.
Quality of nootropics
I've had the chance to try out these nootropics from my order:
Pramiracetam Powder
Phenylpiracetam Powder
Phenibut HCL Powder
Rhodiola Rosea 3% Rosavins Powder
Agmatine Sulfate Powder
ALCAR
Polygala tenuifolia
All of them were of extremely high quality. They looked very consistent and a lot of them had very strong aromas. Rhodiola Rosea was by far the most fragrant. I usually buy capsuled rhodiola powder and the color varies from manufacturer to manufacturer. But, I've noticed that capsules that come in red color are by far the most potent. And Nootropics Depot's Rhodiola is of a deep-red color that has a very, very strong aroma. The reason I think this is important is because of all the Rhodiola products I've tried in the past, the ones that had the most benefits were of red color and had a strong scent. The weaker the scent the weaker the benefits. Similar, the less red it was the less the benefits I received.
Regardless, all the nootropics I tried above had an effect that was either very noticeable or somewhat subtle. Actually, I had a stronger response to Nootropic Depot's phenibut and phenylpiracetam than I did to Powder City's before they went bankrupt and got bought. Both of the nootropics just felt better, stronger, more potent. Maybe it's because of the packaging? Powder City's packaging was pretty dull compared to Nootropic Depot's.
Prices
Nootropics Depot's prices are consistently among the cheapest in the market. In many cases, their prices are a lot cheaper than the leading competition. Below is a table of the prices of the nootropics that were bought in my order:
Nootropic Depot's Prices vs Competitors
| Vendor | ALCAR | Agmatine | Coluracetam | Oxiracetam | Phenibut | Phenylpiracetam | Polygala | Pramiracetam | PRL-8-53 | Rhodiola Rosea 3% Rosavins |
| --- | --- | --- | --- | --- | --- | --- | --- | --- | --- | --- |
| Nootropics Depot | $0.07 | $0.13 | $13.80 | $0.47 | $0.22 | $2.83 | $0.42 | $1.67 | $23.99 | $0.23 |
| Pure Nootropics | $0.20 | N/A | $27.49 | $0.37 | N/A | $3.33 | N/A | $2.22 | N/A | $0.60 |
| Peak Nootropics | $0.12 | $0.23 | N/A | $0.58 | $0.59 | $5.30 | N/A | $1.60 | N/A | $0.32 |
| Absorb Health | $0.24 | N/A | N/A | $0.63 | $0.60 | N/A | N/A | $2.60 | N/A | $0.26 |
Prices Graphed
Discounts
As with other Nootropic vendors, Nootropics Depot offers bulk discounts, but most of the time the size of their nootropics is limited. Nonetheless, the biggest size will always be the cheapest in terms of price per gram. In other words, they seem to cater to mainly bulk buyers. This is probably done to save money for both the customer as well as their business.
However, a downside to this is that you cannot buy just a small amount of a nootropic to try out unless they specifically stock a sample pack for it.
Customer service
Nootropics Depot customer service is unlike any other. Paul, also known as MisterYouAreSoDumb, runs the majority of Nootropics Depot's operations and is very active in the nootropics community. Not only does he respond to people's questions about nootropics, but he also personally addresses issues regarding Nootropics Depot orders.
Furthermore, Paul runs a small subreddit, r/NootropicsDepot, where he seems to always respond to questions and comments regarding Nootropics Depot.
Here are just a few examples:
Is DHL making you pay these fees separate from paying for the shipping on our site? They might be import duties, which is your government. However, they should not be charging you more private fees. Please email our support team at support@nootropicsdepot.com with the details, and we can reach out to our DHL rep about it. If DHL changed something, we will get to the bottom of it.
MisterYouAreSoDumb
Hello,
We will gladly take a look into this for you. However, we aren't able to access your order information. If you email our customer support team at support@nootropicsdepot.com, they can look further look into this.
Thanks!
NootropicsDepotHelp
There have been times when this does occur. Most of any shipping delays we see are due to customs processing or any duties or fees owed on the package. Overall average delivery timeframe with standard shipping is around 1-2 weeks. Our team would be happy to double check and make sure everything is going okay with the shipment of your order. Just email support@nootropicsdepot.com with your order number and we will look into this a bit more for you.
NootropicsDepotHelp
Conclusion
Nootropics Depot is an amazing nootropics store that's of extremely great value. All their nootropics are regularly tested for safety and purity. Their prices are excellent compared to the competition and their selection size is great. The shipping time was quick and the packaging used to ship the nootropics was very well done. Overall, one of, if not the best vendor to buy from.
5 Reasons You Should Buy From Nootropics Depot
Competitive pricing – If you compare any of their nootropic's price per gram to another competitor, Nootropics Depot will pretty much always be cheaper
Excellent quality – Nootropics Depot tests each of their nootropics not just for safety and purity, but also potency
High quality packaging – All their nootropics whether powdered or capsuled come in a nice, high quality plastic container. This in contrast to other vendors putting them in plastic bags or aluminium pouches, which can be a hassle to open or close
Brand name nootropics – Very few vendors offer as many brand-name extracts as Nootropics Depot. These are patented extracts that have been proven to be more effective than the standard
Humongous selection – They offer almost every nootropic you can think of. From the basics like Alpha-GPC, to the classics like Piracetam, to the exotic like 7,8-Dihydroxyflavone, Nootropics Depot's selection size is big enough to satisfy almost everyone
Let us know if you liked the post. That's the only way we can improve.